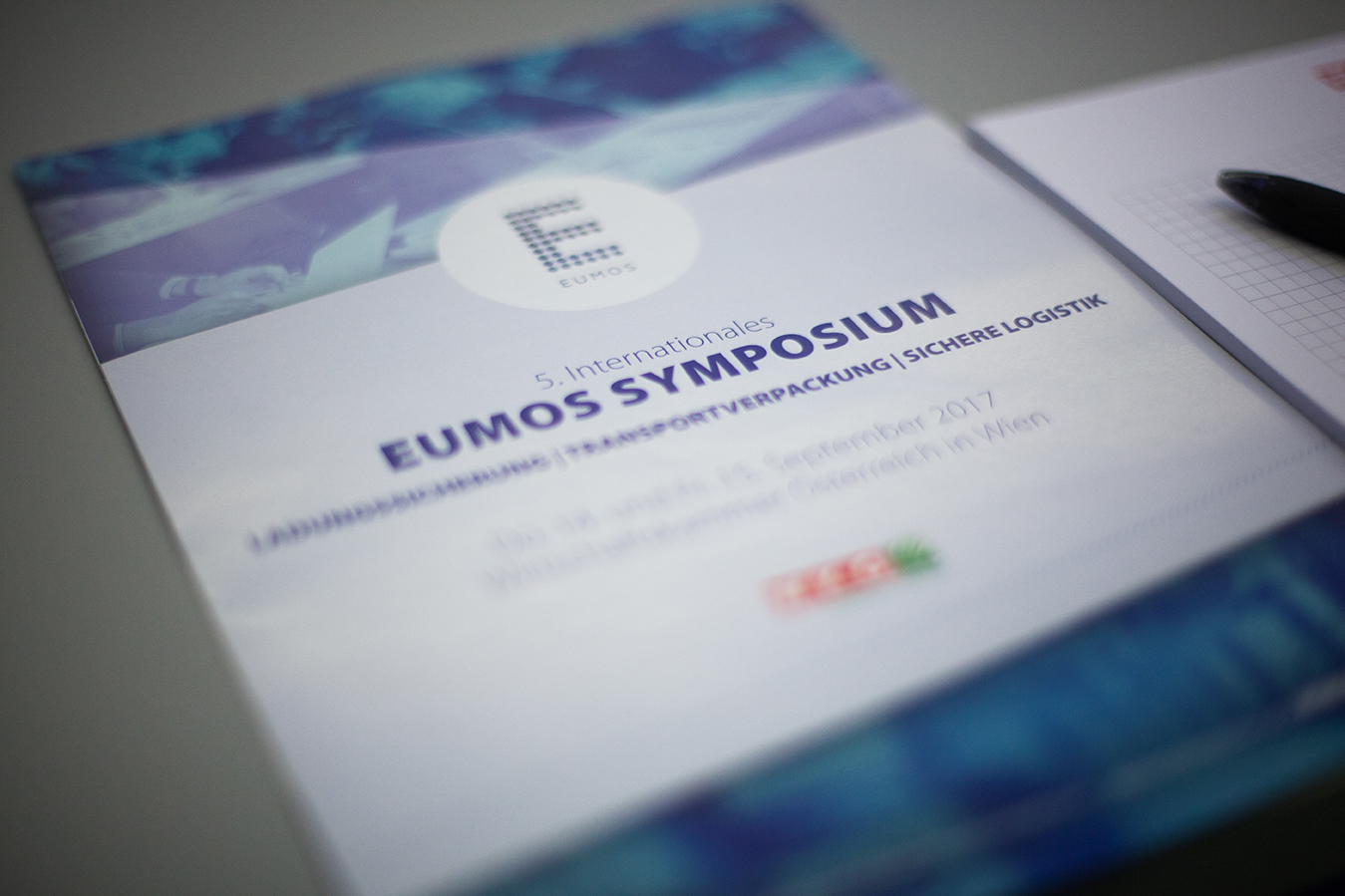 Dr. Christian Mayer – Prevention of transport damages DE
14 December 2018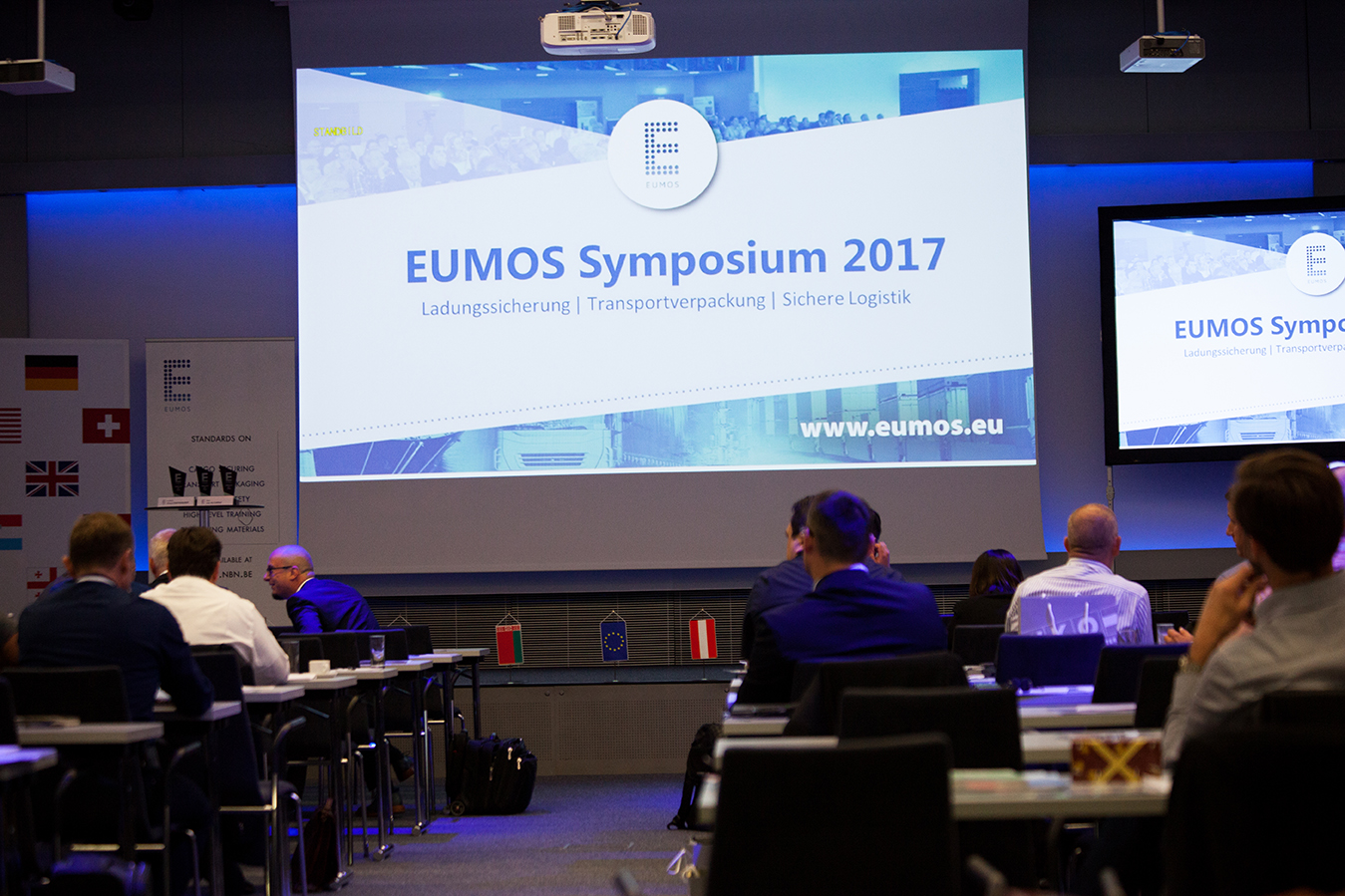 Dr. Lennart Ederle – Cargo Unit Stability Via Correct Stretch Wrap Technology DE
14 January 2019
Hier finden Sie die deutsche Version dieses Artikels
Introducing the company Windmöller & Hölscher
As Head of Distribution, Dr Lennart Ederleh introduced his company Windmöller & Hölscher at this year's Eumos Symposium 2017 in Vienna. The company, which is located in Westphalia and works towards "cargo unit stability via correct stretch wrap technology", offered support on the subject of cargo securing to the conference of experts. The industry audience had already been made aware of how important the topic of packaging is for cargo units and bundling.
What is important during stretch-wrapping?
"Strength is most important", Dr Ederleh explains, but of course cost efficiency also plays a part in the continuous quest for the enhancement of rigidity and strength of the stretch wrap. The most common source of mistakes is not only the process of stretch wrapping itself, but rather pallets positioned at an angle within the stretch-wrapped bundle. The trend goes towards crease-free wrapping, which is tight-fitting, shiny and in the best case transparent or suitable for printing. How many layers are applied is another thing that needs to be paid attention to. A wrapping with three layers is good, five layers are ideal, but again, this is something that must be adjusted to the cargo in question.
A lot doesn't always help a lot with stability
Depending on the product, different levels of force are necessary, and the application of other securing parts such as pallets can also vary in quality. Of course, packaging material needs to be optimised, but it is also important to find the correct gauge of film for the respective product. A lot doesn't always help a lot – sometimes, you simply need a stronger film, or the film needs to be wrapped tighter in order to create real stability.
Quality packaging does not stop with stretch wrapping
A fundamental question that concerns Dr Ederleh is how safety and stability of packaging could be made reproducible and certifiable. According to him, this should be paid far more attention to during inspections, but the associated machines should also be inspected more regularly, along with the quality of the film employed. Quality packaging does not stop with stretch wrapping, since a conventional product usually has primary and secondary packaging before it is stacked onto pallets and wrapped in film. According to Dr Ederleh, an improvement would therefore be to connect all these factors – something which needs to be put into focus much more than is has been to date. This is a path that seems urgently necessary, especially in view of a future filled with automated processes.
The full lecture is as always
As a podcast for the car:
As a video for the road or at home:
[embedyt] https://www.youtube.com/watch?v=xvM2gRuGxqM[/embedyt]