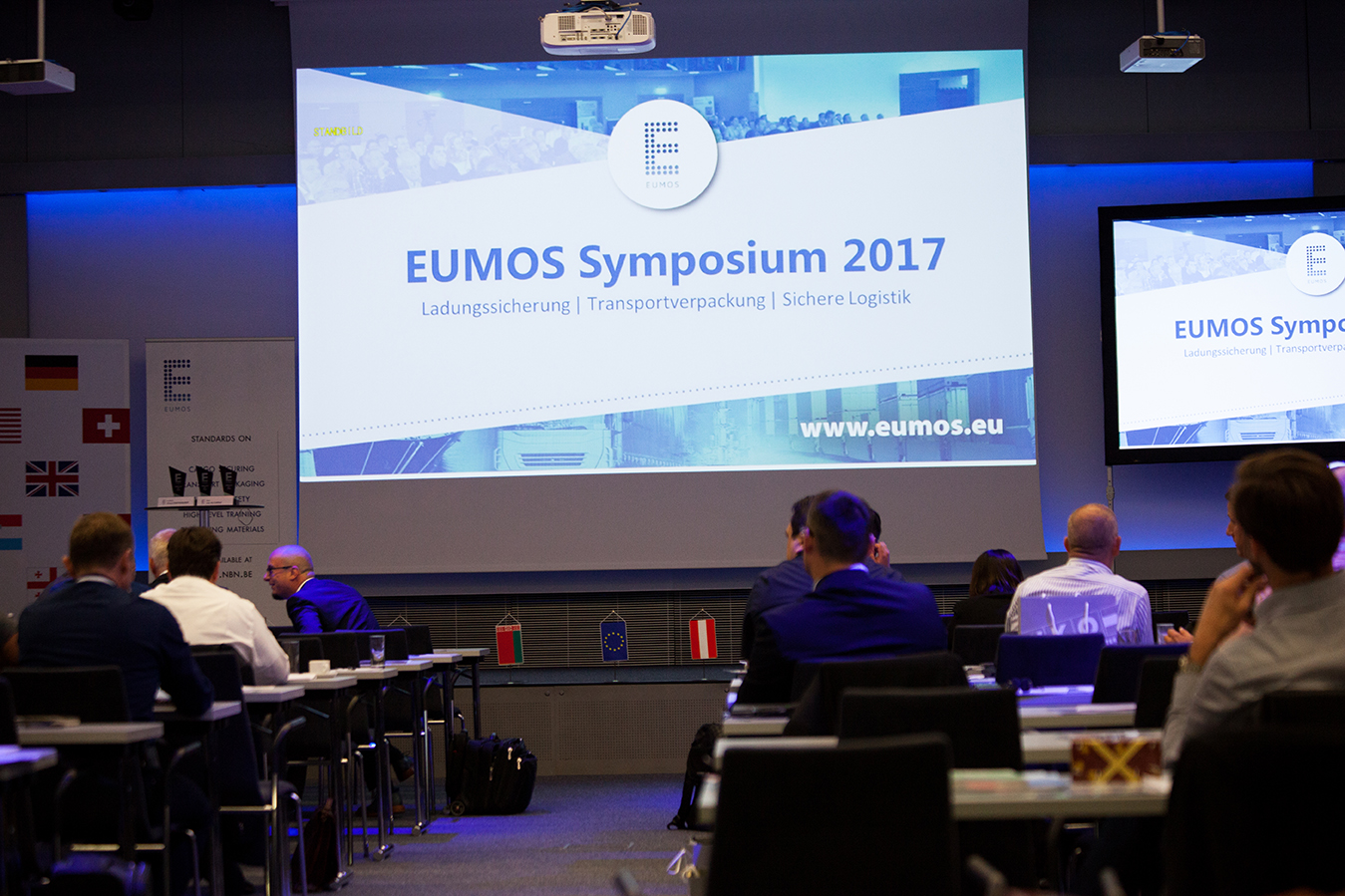 Martin Keller from TÜV at EUMOS-Symposium 2017 DE
21 December 2017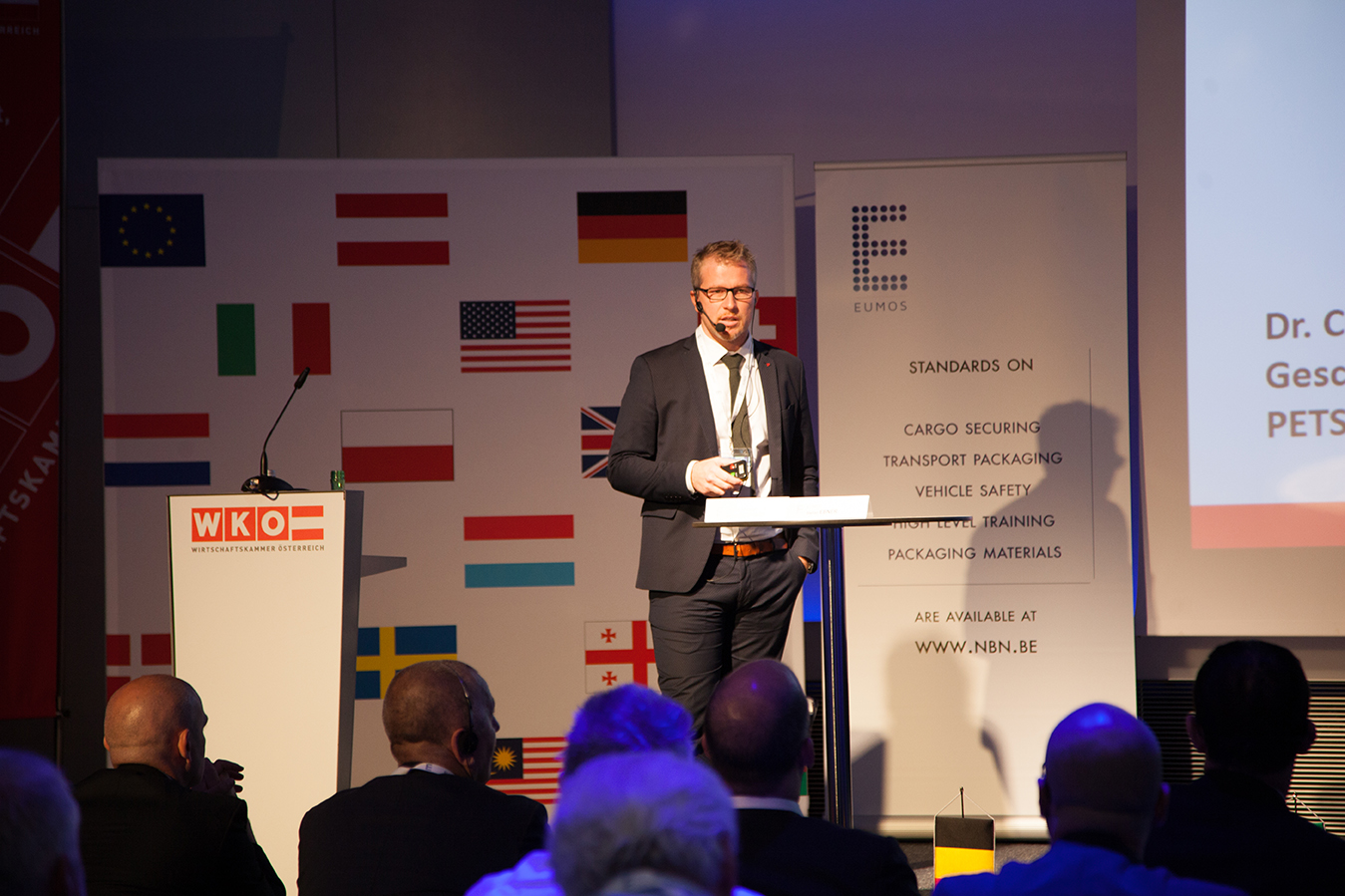 Dr. Christian Spendel – A real-life case DE
16 January 2018
Hier finden Sie die deutsche Version dieses Artikels
A real-life case: Introducing the company Petschl Transporte
An interesting real-life example was given by Dr Christian Spendel of the management of Petschl Transporte in Austria, titled "Loading secured by the Supreme Court of Justice". The speech centred on a specific accident and supplemented the 5th Eumos Symposium 2017, which this time took place at the Austrian Federal Economic Chamber in Vienna. Petschl Transporte is a family business with around 300 employees and 140 vehicles. It specialises in heavy haulage, where a great deal of awareness for cargo safety is of course a basic requirement.
An important landmark decision from the Supreme Court of Justice
Nevertheless, small mistakes happen every day. 3 years later, the Supreme Court of Justice found in favour of the company regarding the accident, marking an important landmark decision: A violation of the auditing duty by the driver of the carrier is not unlawful in terms of the shipping contract which transfers the responsibility for loading to the sender. In the context of the shipping relationship, the violation can therefore not be attributed to the carrier as negligence.
3 years of legal battle
It was immediately evident that the 24t load could not be transported upright, but after all the customer is alright right, and the customer did not want to pay for an extra-wide transporter. After the accident, a 3-year legal battle began which was ultimately decided in favour of the family business. The fault did not only lie with the loading agent, as the driver is also responsible for checking the cargo – but was the insufficient securing of the cargo even apparent to the driver?
Criticism and discussion: the expert audience reacts to the decision
The experts in the audience reacted with scepticism – according to them, the cargo had not been secured well enough from the start, and the driver should not have begun the journey at all. The fact that the company gave in to the customer's wishes was also not in order, and the employed vehicle was seemingly unsuitable for heavy haulage. From a technical point of view, they argued, the company was not entirely innocent regarding the incurred damages.
Simple yet brilliant: helping the driver on site
After heated discussions, the thing that remained above all else was the question of what a driver can do when they are unsure about the securing of the cargo. There is an additional fear of speaking up or refusing to make the journey, since this could ultimately lead to dismissal. The symposium came up with a simple yet brilliant idea for how to bridge this deficiency in educational work in the future: The driver could, in case of any uncertainty, send a photo to their company via mobile phone and thereby obtain a second opinion. The advantage for the driver is obvious: They would not only receive support with the decision of whether or not to make the journey, in serious cases they would also be less likely to be held solely responsible.
The full lecture is as always
As slideshow to read:
Dr. Christian Spendel – Cargo secured by Supreme Court
As a podcast for the car:
As a video for the road or at home:
[embedyt] https://www.youtube.com/watch?v=wVBjb9zfFro[/embedyt]