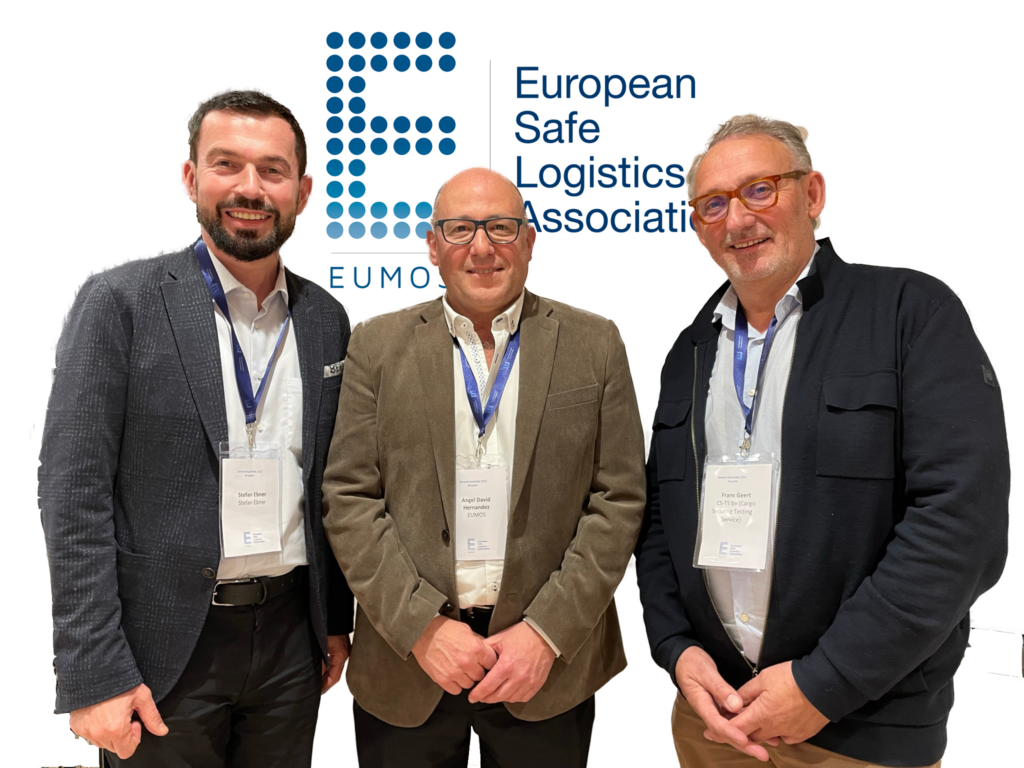 At its annual General Assembly, the European Safe Logistics Association Eumos appointed a new Management Board. The previous Board closed its term after 5 years. Ángel Hernandez is re-elected President of Eumos, the two Vice-President functions will be filled by Stefan Ebner and Geert Frans. Eumos was born 10 years ago by 13 scientists and logistics safety professionals and has grown into an association of 120 members ranging from individual professionals and academics to SMEs and multinational companies. Ángel Hernandez embarks on his second term of Presidency for Eumos and states "The baby has with rapid steps overcome childhood and has now reached a solid basis to diversify and with even more professionalism contribute from a logistics point of view to make transport safe."
With the broad variety of expertise joining forces within Eumos, the association is the leading body on science related to load stability. This expertise is channelled into the elaboration of standards and contribution with logistics safety expertise into legislation in the matter. Eumos has created 3 testing standards of which EUMOS 40509 and EUMOS 40511 were introduced into the EU Roadworthiness on Commercial Vehicles Directive as standards to be followed for cargo securing. In more recent years, among other achievements, Eumos has focussed its efforts into spreading the knowledge about cargo securing measures and rules by its standard EUMOS 40607 (Qualified Expert for Cargo Securing and Transport Packaging) as well as into a better digital tracking system of the cargo securing chain by standard EUMOS 40674 (Minimum Requirements for European Cargo Safety Cards).
Ángel Hernandez is CEO of Valueing, a company training and consulting brand owners on secondary and tertiary packaging for logistics. Vice-President Stefan Ebner is also serving his second term in the Management Board of Eumos being the Director of the sectoral association of driving schools and general traffic at the Austrian Economic Chamber. Geert Frans in his function as Vice-President is a new member to the Management Board and brings with him many years of experience in cargo securing, testing and training for which he provides consulting services within his company Cargo Securing-Testing Services.
A big Thank You goes to the outgoing Management Board for its valuable contribution to driving the association forward, in particular to Arnaud Dupasquier who leaves his position within the Management Board which he has held for the last 5 years.